Product Description
Material:The panel is carbon steel sheet made by ramming craft;
The size of the panel is: 1000*1000mm,1000*500mm, 500*500mm.
The thickness of the panel mainly includes: 5mm, 4.5mm, 3mm, 2.5mm, 2mm, 1.5mm. It is different according to the tank dimension.
Flanges: The sectional panels shall be pressed to double flanges at the angles of 45 degree and 90 degree to the face of the plate on four sides.
Reinforcement Method: All tanks are internally braced with angle stays to endure the rigidity of
the tank when filled with the water. The Top panel is supported by top panel support, which shall
be made of hot-dipped galvanized material.
Application
•Pump Chambers
•Emergency Water Storage
•Rainwater Harvesting & Storage
•Potable Water Storage (drinking water)
•Effluent/Acid and alkali solution treatment & Storage
•Hospital,buildings,building site,school,campgrounds and other places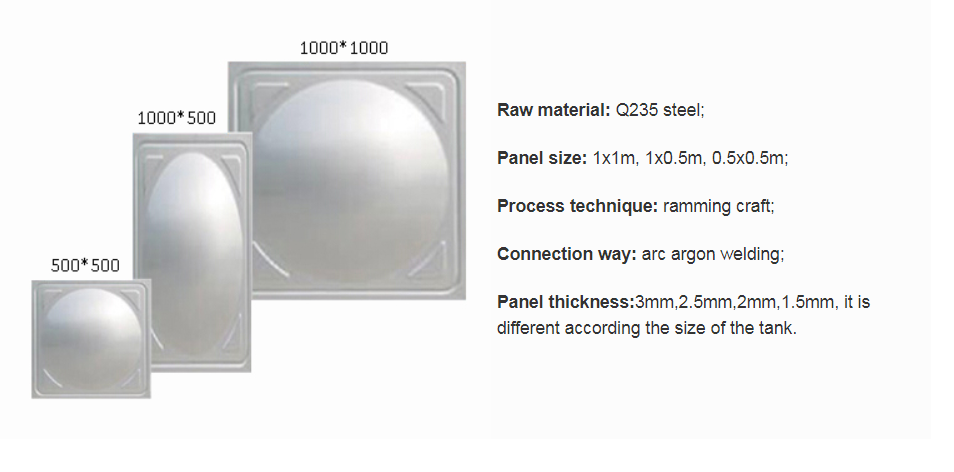 Advantages
•Easy handle and install,free volume design,no leakage,ideal mechanical structure and meet fire and building standard.
•Anti-corrosion, anti-aging, no distorsion, no infiltration .
•shockproof and shock resistant ability.
•It can storage not only hot water, but also cold water
•Never rust,light weigth and high strength,healthy and safety.