Material
GRP/FRP/SMC
Size
1x1m , 1x0.5m,0.5x0.5m
Panel Shape
Ball shape
Thickness
4-24mm
Remarks
Thickness Tolerance :±0.2mm
Volume
From 0.125m3 to 3000 m3
Color
White ,blue and so on
SMC water tank physical and chemical proerties
Ensile strength(Mpa)≥60
Bending strength (Mpa)≥100

Bending modulus (Gpa)≥7.0
Pap hardness≥60

Bibulous rate,%≤1.0

Glass fiber content,%≥25

Leakage
No leakage after filled with water

Full of water deformation

Filled with water, wall maximum deformation after no more than 1.0%

of the tank bottom center height, no more than 10 mm maximum deformation



Water quality
Accord with GB5740
Packaging

Product packaging by the standard of each country .

From plastic packaging to a high standard and packed into wooden trayscary in size,

depending on the quantity purchased customs pace-saving purposes.

Delivery
Water Tank leadtime within 20 working days .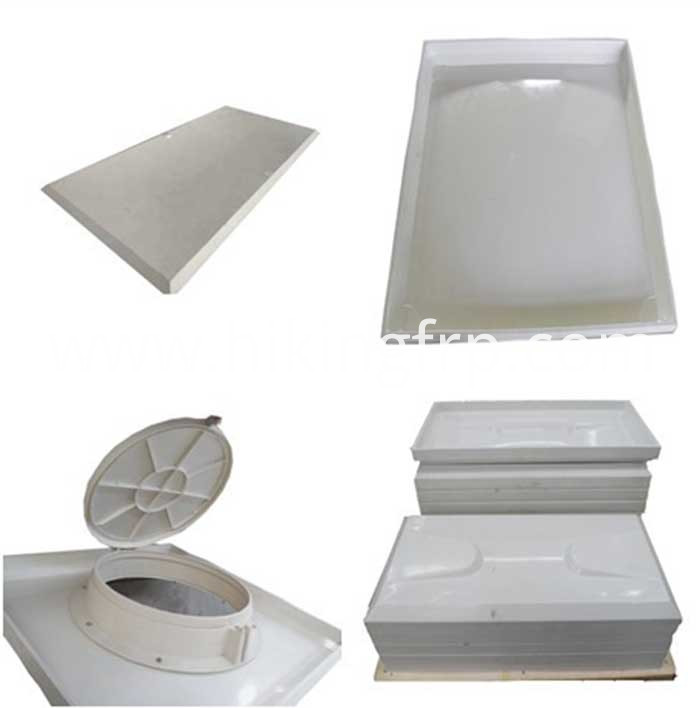 SMC(FRP,GRP) Water Storage Tank
What is SMC material?(SMC tank also called FRP,GRP tank)
1. Sheet Molding Compound is a fiber-reinforced material, which consists primarily of a thermosetting resin glass fiber.
2. SMC is a high tech material that is used in the manufacturing process in most of our products ranges.
3. The advantage of SMC include, high impact compressive, flexural and tensile strength along with temperature stability.
4. SMC has low profile, low shrink for excellent surface appearance and painting.it's color pigmentable and has excellent
chemical and electrical resistance varied to provide insulation, conductivity or anti static properties.
SMC GRP FRP STORAGE Water Tank
Is made of Fiberglass reinforced plastics which is divided in FRP Modular type and SMC combination
type. The major advantage is light weight, anti-rusted, non-leakage, long durable time and easy to clean. It is widely used in
hotel, school,hospital and coal mine enterprise.